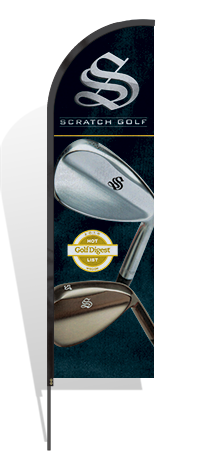 ADVERTISING FLAGS
Looking for a unique way to advertise an event or product launch? Why not opt for an advertising flag? Helping you get your product noticed is our main goal. We pride ourselves on finding new and innovative ways to present products around the world. At A New Sign, you will receive advertising flags to help turn your product into a recognizable name. Our indoor and outdoor advertising flags help our clients turn their products and services into their own brand.
Unique advertising is at the core of every successful business. At A New Sign, we offer a great variety of advertising flags, all expertly designed to portray your company's name and logo in the best way possible.
Putting up our advertising flags is a quick and simple process. The pole system is comprised of a proprietary composite combination that is the lightest and strongest on the market. All advertising flags are printed on high quality fabric with UV resistant inks that are extremely durable.
With A New Design customers have the ability to upload images and create full-color designs. Clients will also be given the option to create and maintain a gallery of designs as well as create mixed decorations by bringing together embroidery and digital printing.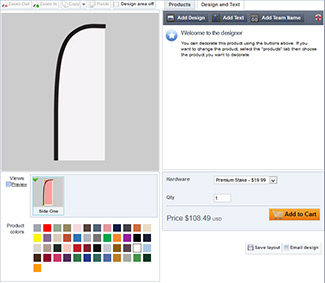 Experience Anewsign's powerful and easy to use online designer to create your very own designs on a variety of products.
Upload your own images or vector art or use any of the print ready graphics available in our stock art library.
When you're satisfied with your design, use our secure check out process and we'll begin creating the products with your exact designs.